Tanjung Sorga Villa, Bali Indonesia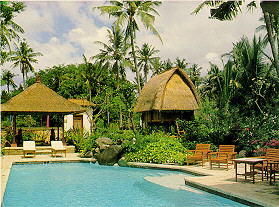 Bali... A magical island full of legends and mystical tales. Thousands of temples, colorful processions, festivals and exquisite dances are a daily part of life. Delicate paintings, intricate wood carvings and fascinating handicrafts abound.
Rising from the center of the island is Gunung Agung... Great Mountain and the holiest of all temples...Besakih...the focal point of all Balinese Hindus.
Warm breezes whisper along the palm fringed beaches of golden sands. Nearby lush rice terraces sculptured from the fertile soil sweep through the countryside, pausing only for a village, a patch of rain-forest or temple.
Smiling, gentle and graceful, the Balinese live in perfect harmony with their island.
The riches of Bali are yours to enjoy... Come and join us at Tanjung Sorga!
Villa Tanjung Sorga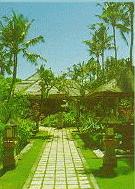 Tanjung Sorga, a beautiful villa located on Sanur Beach, is strategically set on the point or Cape of Bali's largest traditional village. 'Tanjung' meaning 'Cape' in Malay and 'Sorga' is Indonesian for 'Paradise or Heaven'. Its literal translation means 'Cape of Paradise'.
Tanjung Sorga is a villa created in the traditional Balinese style with a western influence of Architecture. The main house has large open living and dining areas with high thatched ceilings, four main level bedrooms with private baths, a large master suite with a luxurious marbled bathroom located on the second floor. Separate buildings on the compound consist of 'rice house' (bedroom), 'Bale Bengong' (gazebo), main kitchen, servants quarters, laundry facilities, a large swimming pool, four car parking area, and badminton court. All facilities are surrounded by lush tropical landscaped gardens... All of these buildings and facilities are built with local materials by Balinese craftsmen in Traditional Architectural Techniques used for Centuries. For a layout of the grounds take a look at the architects floor plan
Living and Social Areas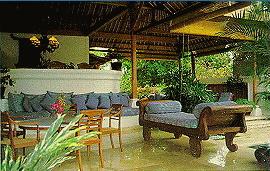 The main Living Room area is a large open-air space focused around lush landscaping, fountains, lotus ponds, sunning decks and large traditional Balinese swimming pool. The covered areas are all marble floored, cathedral height ceiling with traditional Balinese wood carvings and richly appointed fabrics as antique Indonesian furnishings. The Dining Area is a raised sitting area with a marble dining table which seats 10 adults, with views of surrounding landscape, swimming pool, beach and ocean which lay just beyond the pool.
Main Level Bedrooms
Each bedroom is designed with its own private garden, air conditioning, marble floors, king-sized bed, built-in closet and shelves, two person tub, water closet, sink, hot/cold water. Each main level bedroom is approximately 275 sq.ft. (26 sq.m.). There is also a layout of the main level.
Upstairs Master Suite
Designed with luxury in mind, the Master Bedroom Suite has teak plank flooring, Indonesian antique furniture, poster king- sized bed, sitting area, fully air conditioned and private outside terrace. The Master Bedroom Suite is approximately 1000 sq.ft. (95 sq.m.). The Master Suite Bathroom and Dressing Area is an extension of luxury that is only achieved in similar five star hotels because of the marble floors and walls, two full walk-in his/her closets, toilet and bidet, step up recessed two person tub with full height view windows to the beach, two seat twelve foot (4 m.) long make-up table, double sink counter, and walk-in shower. Both the Suite and Bathroom/Dressing Areas have cathedral height ceilings and thatched frame roofing. There is a layout of the Master Suite.
Site Features
Classical Balinese swimming pool 7.5 m. x 15 m. (23 ft. x 45 ft.) with rock formed water fountains, raised Balinese Bale Bengong (gazebo) for casual social events with beach views, lotus ponds, fountains, lush landscaping, four car private parking, badminton court, night lighting and security wall. The lush tropical private grounds with full lenght swimming pool were designed by Bali's famous landscape architect Michael White (Wade Wajaya).
The Rice House and Bedroom
A single-story teakwood paneled bedroom, built within an 'antique rice house' has a king sized bed and an outside bathroom with a courtyard. This 'Rice House Bedroom' is built above a thick teak wood framed platform for lounging, resting and relaxing.
Service Features of the Villa
Full service Western Style separate kitchen facility for the 'Self-Service Gourmet Cook' or a private full-time cook is provided. Cook can do daily grocery shopping, food preparation and serving.
Three full-time live-in servants with their own separate living quarters on the grounds.
Badminton court.
Direct access and views to the beach.
Airport pick-up and delivery provided
24 hour security
Lush tropical landscaped grounds
Full-time baby sitter (optional/additional cost).
Executive travel tours in 'private' air conditioned motor couch or bus (optional/additional cost).
Washer and dryer available at additional cost
Personal laundry services at additional cost
'World wide satellite dish' for television programming throughout the world. Two TV sets and VCR provided.
Stereo system with receiver, cassette, disk and remote speakers.
Tanjung Sorga is set within an old coconut plantation on Sanur Beach, approximately 25 minutes from Ngura Rai airport and Kuta Beach.
This magnificent five bedroom villa offers the ultimate in luxury while capturing traditional Balinese styling. Take a look at the floorplans.
Enjoy our refreshing swimming pool. Sunbathe poolside or relax in the shade of the Bale Bengong. In the evening the pool becomes a romantic setting.
Sanur Beach offers a variety of leisure activities. The coral reef is excellent for snorkeling with the inner lagoon supplying quieter waters for many marine sports including para-sailing, water skiing, wind surfing, outrigger boat sailing, surfing and many more.
---
Rental and Payment Information
Tanjung Sorga Villa
Rental Information
Four main level air conditioned bedrooms with baths, luxurious upstairs master suite (1,600 sq.ft.). Antique "Rice House" Bedroom. Sleeps 12, all bedrooms with king size beds.
Nightly Rates: USD$300 to $1450 per night
Note that nightly rate depends on number of people in "Party", length of stay, time of reservation and the season. Example rates (subject to change without notice):


One Couple in Low Season - $350/night
Two Couples in Low Season - $450/night
11 People X-Mas/New Year - $1,275/night
E-mail for a quote

Only one "party" is booked at any one time, no other "parties" are booked during your stay. The entire villa is yours and yours alone to enjoy and explore, with your guests, the beauty and mystery of Bali.
Five day minimum stay (7-day minimum during Christmas and Easter seasons), 4 servants and 24 hour security. All air conditioned rooms are NON-SMOKING areas.
Weekly and monthly rentals: NEGOTIABLE
Add 20% charge to above rates during high season dates. High season dates are during Easter Week (one week before and one week after Easter Sunday), Summer (June 1-August 31), and Christmas (December 15 to January 10).
All overseas telephone calls will be charged to the guest's account and should be paid in cash.
Check-out time is 12 noon. However, if the house is available and you wish to remain until later in the afternoon, please check with the Manager. If you leave before 9:00 am, please settle your account the evening before.
33% security deposit is required to "guarantee" your reservation. The security deposit is non-refundable. In addition, the full balance of the account is due 90 days before your scheduled arrival date. The security deposit is non-refundable. In addition, the full balance of the account is due 90 days before your scheduled arrival date. The paid account is not refundable, however we will transfer and accommodate other dates to meet the best arrangements for the guest.
Above rates are subject to 12% service charge and Government Tax.
Optional services at additional cost:


Full time cook
Child care/babysitting
Grocery shopping
On-site massage
Airport transfers
Sight-seeing Tours
Beauty parlor services
Laundry (personal)
Breakfast
etc.

Payments can be made via wire Transfer/Direct Deposit into one of Tanjung Sorga's accounts or by Visa/MasterCard. Please contact us for specific payment information.

---

for more information and reservations
e-mail tanjung@gobeach.com or call 1-888-71BEACH (1-888-712-3224)

Back to Other Destinations
Links:


Visit Majapahit, Inc., for fine Indonesian arts and antiques.