▲
Contact: Annemarieke Jongsma
email me
or call 1-888-712-3224
Arbor Estate
Cupecoy Bay, St.Maarten - bedroom villa
Privately-Owned Condominiums
Sorry, taken off the active rentals list.
Please, see our on-line catalog for alternative options.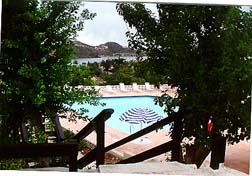 Elegant, but comfortable! Tranquil, but exciting! Situated in the charming, tropical and prime resort area of Cupecoy Bay. Our villas, so beautiful, luxurious and designer decorated, offer a delightful home atmosphere away from home. In our bedroom units with queen size beds, you can float in the special relaxation created by constant breezes from the sea.
Dine and entertain in delicately designed, sophisticated appointed living and dining areas, with spectacular views of the Caribbean. Here you can let your imagination ascend. Create your personal haven. Fulfill a fantasy in restful ecstasy. Each of our villa units have fully equipped kitchens, daily linen and maid service, air conditioning, ceiling fans and a fresh water swimming pool. A short stroll to the beach, Casinos, tennis, golf, shopping and nightlife nearby. A short drive to the French side, gourmet restaurants and chic boutiques. Our villas can be your favorite paradise. Let us help you share the magic!
---
R a t e s

Rates range from $105.00 per day for the One Bedroom Parlor Suite in summer to $200 per day for our Deluxe One Bedroom Caribbean Suite in peak season. Both suites have panoramic Caribbean views.

      Deluxe Bay View - 1 Bedroom Parlor Suite
        Season         Sgl/Dbl     Extra Person
        Summer           $105          $10
        Shoulder         $110          $15
        Peak             $175          $20
        Winter           $140		

      Superior Bay View - 1 bedroom Caribbean Suite
        Season         Sgl/Dbl     Extra Person
        Summer           $125          $10
        Shoulder         $120          $15
        Peak             $200          $20
        Winter           $155

     Seasons: 
         Summer Season:    April 16 - October 1, 1998
         Shoulder Season:  October 1 - December 19, 1998
         Peak Season:      December 19 - March 1, 1998/1999
         Winter season:    March 1 - April 15, 1998/1999

     Christmas rates (December 21-31, 1998):
                 Caribbean suite, add $35 per night
                 Parlor suite, add $25 per night.

Deposit: 3-night rental to confirm reservation.
Balance due 30 days prior to arrival.

Minimum stay: 3 consecutive nights.
Children under 6 years stay free when sharing with 2 adults.

Cancellations received within 21 days of arrival date
are subject to a 3 night cancellation penalty.
Note: prices are subject to change without notice.