---
Mary's Boon
Simpson Bay, St.Maarten
---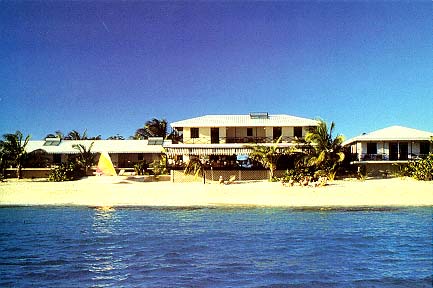 Mary's Boon: "The Little Inn on the Big Beach"
Mary's Boon Hotel & Restaurant is truly unique. The new Directing Managers, Mark and Karla Cleveland from Houston, Texas, have carried on the traditional casual ambiance of Caribbean hostelry, while adding new and exciting personal touches and amenities, such as Holiday Water Sports.
This Caribbean Village & Beach Club is located on a magnificent 3 mile white sand beach. There are 14 large studios, with kitchenette and private bath. All of the ocean front rooms have wraparound verandahs, gingerbread trimmed, and are garlanded with hibiscus. This seven building, white roofed complex is intimately located on Simpson Bay, one of the longest stretches of sand on the island, with the best beach on St.Maarten. The sea beckons the minute you step through the main gate, the entire complex is open to the sea breezes, framed by sea grape and coconut palms.
The rooms are really efficiencies, about twice as large as the average hotel room. They come complete with ceiling fans, tile floors, and kitchenette. The new management has made air-conditioning available for the first time in twenty years, along with a few other modern comforts, such as cable TV and telephones are available. Credit Cards are also accepted.
For the best food on the island and a great atmosphere, Pomeroy's Restaurant on the Sea Side dining gallery offers the following. Breakfast may be continental or full, $5 to $7. Lunches range from salads to hot seafood dishes, $5 to $20. Dinners are served one seating at 8pm, with a special entree for each night. Monday is CHICKEN GORDON BLUE, Tuesday is SHRIMP PROVENCAL, Wednesday is VEAL DIJONAISE, Thursday is ROAST DUCK, Friday is LOBSTER CREOLE, and Saturday is BEEF TENDERLOIN. Sunday the cook has off. All dinners come with an appetizer, 3 vegetables, dessert coffee or tea, served family style at your table. You get all you can eat with second helpings! Priced at $30 or $35, definitely the best value on the island. Daily meal plan is offered for $50 pp per day. The honor bar is always open, where you mix your own drinks the way you like them.
"A private serene get away just for you"
More pictures:
-one- -two- -three- -four- -five- -six- -seven-
---
Rate Card
Location: On magnificent 3 mile white sand beach South of Juliana Airport
Rooms: 14 very large studios with kitchenette and private bath with beach front patios
Meals: Imaginative fare at breakfast, luncheon and dinner served on our seaside dining gallery
Bar: Mix your own on the honor system
Check Out Time: Noon
Rates are in USD and based on Double Occupancy per day, European Plan

     April 15 - May 31             $125
     June 1 - August 31            $ 90
     September 1 - December 14     $125
     December 15 - April 14        $195

Rates do not include 15% service charge in lieu of tips and
a 8% government tax on room charge only
December 15 - April 14: Five day stay minimum, four day deposit required
April 15 - December 14: Three day deposit required
Cancellations: 21 days.