Contact: Annemarieke Jongsma
email me
or call 1-888-712-3224
Villa Eden House
Marigot, St.Barts - 3 bedroom villa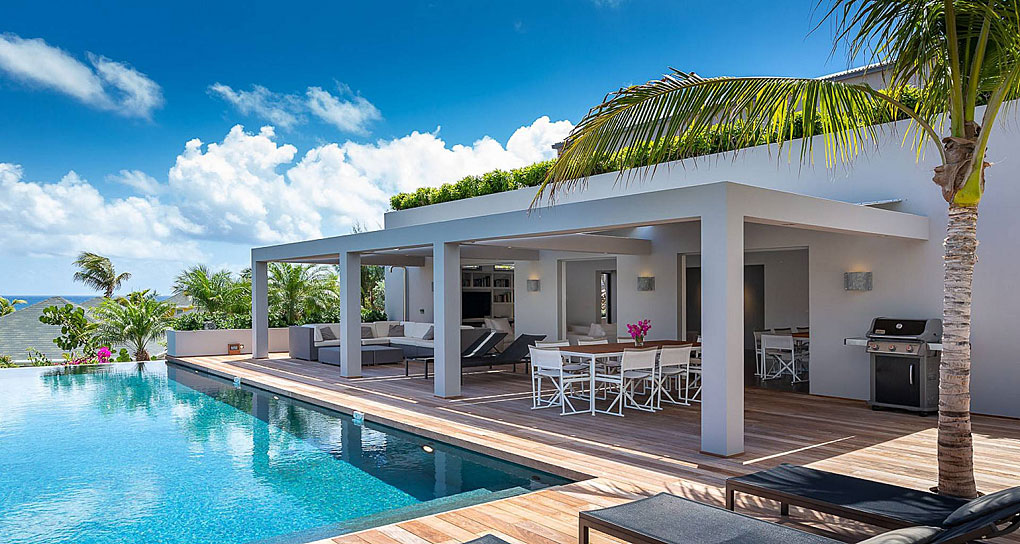 One of the first villas on St. Barth, and still one of the best
Eden House was one of the very first villas on the island. It has now become one of the finest contemporary achievements of the island. It also boasts an exceptional location with a path directly accessing the sea and double exposure both to Marigot Bay on one side and the Atlantic Ocean on the other. The nature of its Garden of Eden only adds to its originality. Sober lines, refined purity with a decidedly minimalist and an almost monastic style.
At a first glance, this villa seems relatively austere with its grey rendered concrete; however, gradually notes of incredible joviality are progressively revealed. Vivid, lively, acidulous and fresh colors in the three bedrooms which are designed identically, but each with their own distinct hue. The bedroom furniture is a reference in the field of design: MDF Italia beds, Artemide lamps and linens from the collections of Valerie Barkowski and Mia Zia. A remarkable alchemy and contemporary timeless elegance.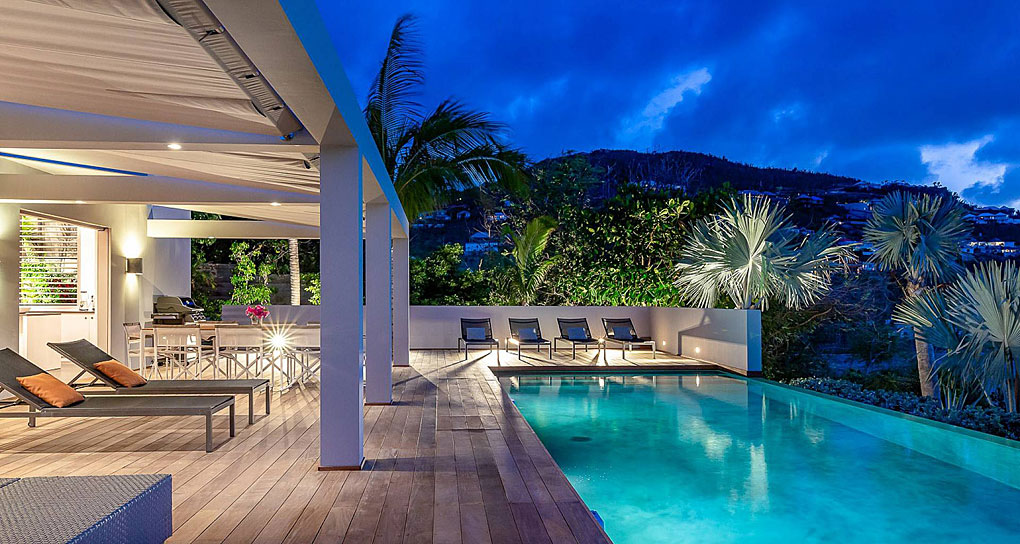 The vast cembonit floored reception area unites the living room, dining room and kitchen in the same open plan space, which opens onto the concrete pool and the deck shaded by grey nautical awnings supported by massive stainless steel bars.
Eden House's bounderless bold and daring architecture has remarkably blended into the landscape of the island becoming an integral part of its surroundings. This property immediately charms you not only by a series of extraordinary details, but also by its aesthetic sensual atmosphere and gentle, contemporary refinement. Eden house is a pure gem, quite simply a celebration of joy and happiness.
What we love about this villa: The gentle sounds of the waves crossing over the reef of Marigot Bay.
Our Notes on this villa: Chic contemporary villa, minimalist décor; 3 equally sized en suite bedrooms and a gourmet kitchen. An oversized infinity pool graces a huge deck.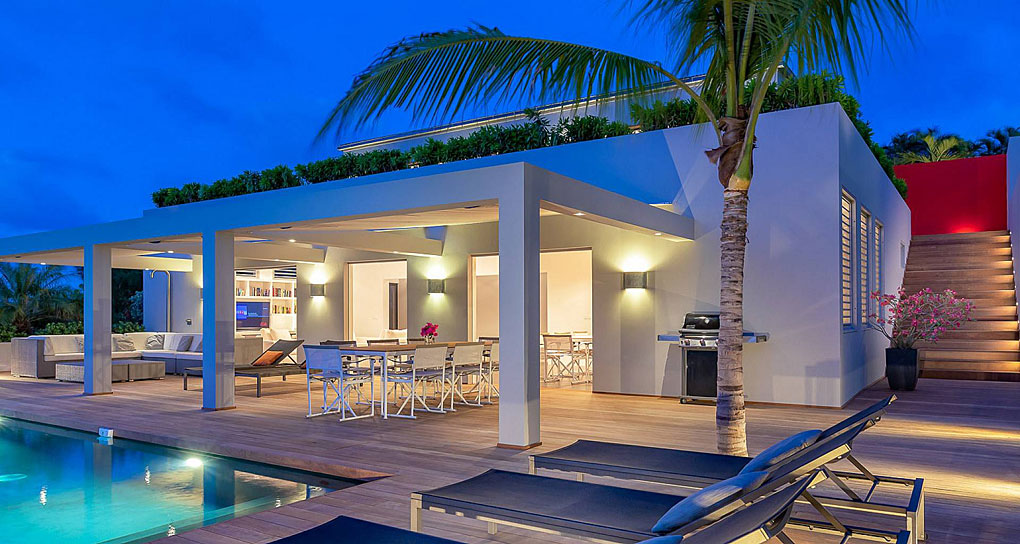 Villa Specifications:

Location: Marigot Beach
Pool: yes, 46' X 16' X 5'
Bedrooms:

Bedroom 1 King Bed, A/C, Ceiling Fan, WiFi, HDTV, Apple TV, iPod Connection, Phone, Programmable Safe, Ensuite Bathroom, Screened Windows, Mosquito Net, Private Terrace, Refrigerator, Hair Dryer
Bedroom 2 King Bed, A/C, Ceiling Fan, WiFi, HDTV, Apple TV, iPod Connection, Phone, Programmable Safe, Ensuite Bathroom, Screened Windows, Mosquito Net, Private Terrace, Refrigerator, Hair Dryer
Bedroom 3 King Bed, A/C, Ceiling Fan, WiFi, HDTV, Apple TV, iPod Connection, Phone, Programmable Safe, Ensuite Bathroom, Screened Windows, Mosquito Net, Private Terrace, Refrigerator, Hair Dryer

Bathrooms: 3.5
Kitchen:

Oven, Microwave, Toaster, Espresso Machine, Coffee Maker, Refrigerator, Dishwasher, Phone

Living Area:

Ceiling Fan, WiFi, HDTV, Canal Sat, DirecTV, DVD Player, Apple TV, Sound System, iPod Connection, CD Player, Phone, Half Bath

Terrace:

Infinity Pool with Steps, Gas BBQ, Sun Deck, Outdoor Sound System, WiFi, Coded Entrance Code. View direction: north, west, TV, US Satellite, French Satellite, Apple TV, SONOS, children 10+ ok

Weekly rates (excl. 15% government tax and service):
                                  2 bedr.   3 bedr.
    April 15 - December 14:       $ 7,900   $ 9,250
    December 15 - April 14:       $18,700   $21,600
    Christmas (10 night min.):    $39,700   $39,700


Villa Location: